Choir Camp – Rockin' Round the Clock!
SHOWCASE
Crowley Theater — 11:30am
Friday, June 3, 2022
​
Marfa Live Arts: Choir Camp – Rockin' Round the Clock!

3rd through 8th grades
Marfa ISD / Hibbits Gym & Crowley Theater

May 31 – June 1-3, 2022

Rockin' Round the Clock: A choir music camp teaching songs from the 1950's led by Anna, Kate and Leah Teagarden and supported by local Marfa musicians. Students will learn bee bop dance moves and sing songs from the fifties. On the last day of class, we will have a show for families to attend. This is a fun and unique educational opportunity for youth to raise their voice in song!
​
​
​
​
ChoirCamp2022_bySarahMVasquez-4
ChoirCamp2022_bySarahMVasquez-11
ChoirCamp2022_bySarahMVasquez-89
ChoirCamp2022_bySarahMVasquez-4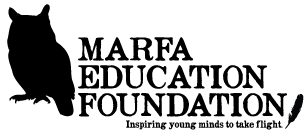 P1350380.00_23_19_02_edited
30se_revised.00_03_32_13.Still002
Marfa Live Arts presents
My H-E-B
at Marfa Lights Festival

Marfa Live Arts will take the stage at 11:30am on Saturday, September 2, following the Marfa Lights Festival parade with My H-E-B a play written by and featuring long-time Marfa Live Arts' collaborator Raul Garza with actors Patty Neff-Tiven and Giselle de la Rosa.
​
​
​
​
​
​
​
​
​
​
​
​
​
​
​
​
Marfa Live Arts' producer Rachel Tate shared, "My HEB" is more than a celebration of a really fantastic chain of grocery stores. It's a collaboration of stories about the people that make up the community that builds a grocery store. Who it nourishes and who it serves. We could even pretend it's our Porters." Tate continued, "Marfa Live Arts has served as a similar vehicle forMarfa. Its mission begins and continues with the community, for connection, and with nourishment through laughter and play. So does this play. It's such a gift to have Raul Garza bring his art to us outside of the Marfa classroom where he's given so much. His time and knowledge have been a huge asset for Marfa students, and I think it'll be really neat to give them, their families and the entire town the opportunity to share in on that fun."

"Every time I've worked with Marfa Live Arts, it's been to a specialized audience," explainedGarza, who has led two Marfa Live Arts Playwriting Workshops at the Marfa Independent School District. "This time, it's really for everybody. We're looking forward to seeing people from all over town and the region who have different experiences and backgrounds with live theater. That's what's going to make it most fun. It's a really accessible play for people who may not be familiar with theater," Garza said in agreement. "If you've ever been to a grocery store, you're going to get it. Whether you shop or have worked at a grocery store, you're going to understand it. That's why I invite everyone to come out."
​
For Neff-Tiven, to perform and also serve as director is an exciting prospect. "It's funny because the closest HEB is hours away from Marfa, and it's set entirely inside an HEB," she said with a laugh. "But it could be any supermarket. We all find the grocery store that becomes our grocery store. It becomes a community where you notice every little change." Patti is the Co-Artistic
Director of Ground Floor Theatre in Austin, TX whose mission is to produce works focused on underrepresented communities. A graduate of the Theatre program at St. Edward's University, Patti has worked with many Austin performance companies such as Rude Mechs, ScriptWorks, Fusebox Festival, Latino Comedy Project, Austin Gay Men's Chorus and Heloise Gold Dance.

De la Rosa, who worked with Marfa Live Arts as an actor for their Radio Plays in the Time of Corona series written by Marfa High School students and produced during the pandemic, is also looking forward to her return to Marfa. Her Marfa experiences, she added have been plenty, having travelled multiple times not only to perform, but beginning with working for early iterations of The Marfa Film Festival and to bring her daughter to town to participate in the MISD Summer Shake Up DJ Camp hosted by Ballroom Marfa. Giselle has received accolades in dance, theatre and film and has participated in notable collaborations with Theatre En Bloc,
Ground Floor Theatre, ScriptWorks and Performance Platform Austin. She also works as a film festival director and film screener with The Arthouse Film Festival, Cine Las Americas and SXSW.

For Marfa Lights Festival lead organizer and Marfa Chamber of Commerce President Abby
Boyd, the play's addition to the festival's programming will be an added bonus to the weekend.
"Marfa Live Arts is such a vital part of our community; they are an ideal partner for the Marfa
Lights Festival. We can't wait to see My HEB performed for our community after the parade,"
Boyd said. "My HEB gives a different way for our audience to connect and be entertained. We
can't wait to see their faces and hear their laughter."

Sponsored by Texas Commission on the Arts, Mitchell Foundation, Permian Basin Area
Foundation and City of Marfa.